South Pacific Sailing Network
A group of like-minded tourism and marine industry professionals across the South Pacific islands are the SPSN.
Efficient promotion and communications will encourage more yachts to experience these exceptional cruising grounds, strengthen the services available and aid the economies of the island groups. Mindfulness of cultural and environmental balance in the islands is vital.
New members with relevant skills and experience and enthusiastic about promoting the sailing region are welcomed.
Together we can elevate the status of the South Pacific as a sailing destination to equal the Mediterranean and Caribbean.
Find out more about SPSN
our mission
Working together to develop international yachting in our beautiful South Pacific region.
Read more
Responsible Cruising
Our new flyer
International sailors: Members of the South Pacific Sailing Network welcome you to their islands, which together comprise one of the most spectacularly beautiful cruising grounds on earth. And more often than not, the islanders you'll meet ashore will be genuinely welcoming, and happy to introduce you to their centuries-old cultural traditions.
As in other popular cruising grounds around the world, visiting sailors like you can play a vital role in preserving the unspoiled natural beauty of the South Pacific islands, while also reinforcing the long history of mutual respect between islanders and world cruisers.
With these thoughts in mind, we invite you to take a few minutes to review the following common-sense guidelines, and join us in making a commitment to responsible cruising practices that will help preserve the natural ecosystems of these islands for future generations of residents and travelers.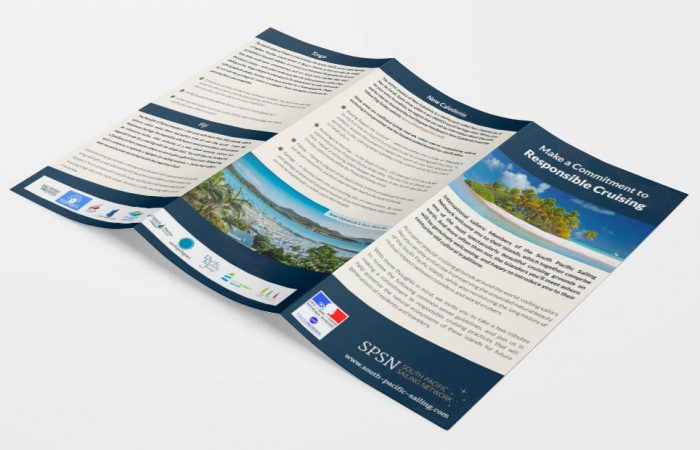 Sail the South Pacific
Cruise our Islands and stay a while...
Headline statistics
1,500 sailboats pass the Panama Canal each year
700 sailboats arrived in Polynesia in 2016
510 international boats stopped in Fiji in 2016, 550 in Tonga, 508 in New Zealand
Potential target of more than 5,000 sailboats in the West Indies, 3,000 sailboats on the Pacific coast of San Francisco, Mexico, and 2,000 boat owners residing in the South Pacific islands.
Next events in the South Pacific