Heiva Dance Festival in Tahiti
From Friday July 5, 2019 to Sunday July 21, 2019
A major cultural event on the Polynesian calendar, Heiva I Tahiti takes place every summer, with over four weeks of celebrations including stunning dance shows and traditional sporting events.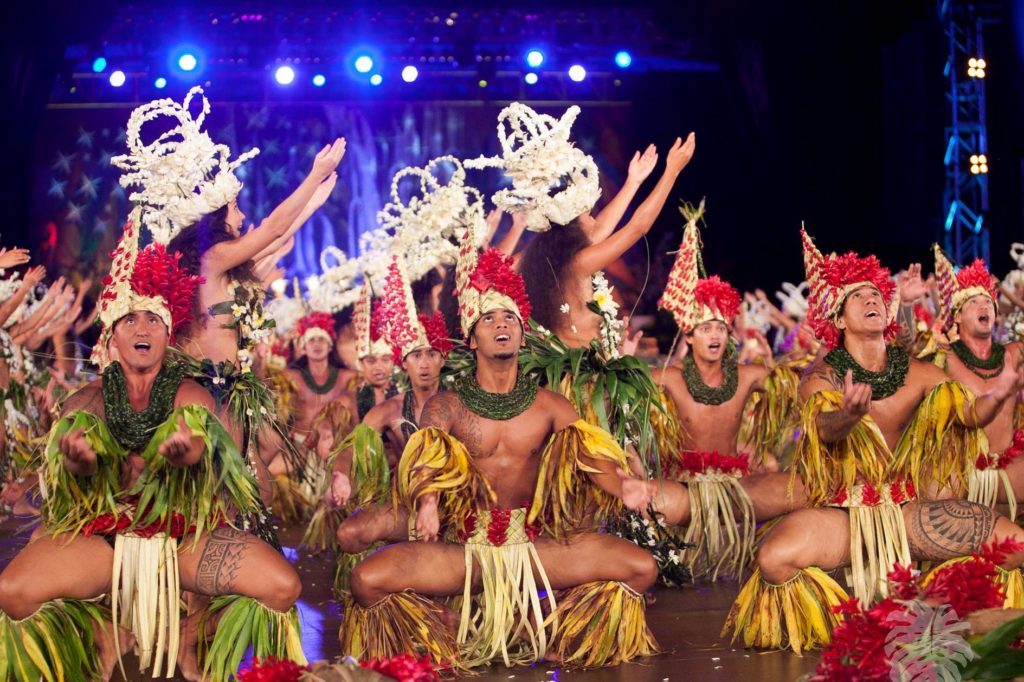 'Ori Tahiti attracts thousands of passionate people, seeking that fascinating expression of our culture, and instead of distracting the adepts of such art away from Polynesia, it turns it into a living and throbbing heart, the essential soul of Polynesian dancing and culture.
The Heiva serves as the quintessential, iconic event that allows the French Polynesian people to showcase their unique heritage and the very best in Tahitian dancing, artistry, and physical prowess—foundations of their culture that were almost completely lost.
A Culture Nearly Lost
While art, music, and dance have always been paramount to Tahitian culture, these artforms spent many years hidden away. When the European Protestant missionaries colonized the islands in the 19th century, they found many of the practices to be erotic and especially irreverent. Sadly, the missionaries sought to assimilate the natives of French Polynesia and eradicate several elements of Tahitian culture. Everything from their manner of dress (or lack thereof) to dancing and tattoos was banned.
Fortunately, many traditions had been kept alive. Families practiced dance in secret, recorded traditions and customs, and took tremendous risk in the clandestine sharing of these legacies for the next generation. And, after Tahiti was annexed by France in 1881, the coming decades brought a resurgence of Tahitian pride and heritage that all culminated in a formal celebration that has become the Heiva I Tahiti. The Heiva portrays a Tahitian renaissance that is at once beautiful and exhilarating to witness.
The Heiva Experience
The festival is truly a feast for the senses! You'll hear live music from orchestras of as many as fifty musicians playing indigenous instruments such as the Vivo (a bamboo nasal flute), Pu (Conch shells), and the ukulele. These eclectic combinations create a mixed vibe of relaxation, celebration, and an overall state of bliss.
Perhaps one of the main draws of Heiva are the elaborate dance shows. Scantily clad male and female dancers expertly execute the traditional dances of their ancestors, all competing for the winning title. Dance moves can be slow and sensual with serpentine hand gestures, to rapid hip gyrations that put Miley Cyrus' twerking to shame. To be clear, there is meaning in every dance and a story to be witnessed. From the movement of the bodies to the intricate details of the costumes—each dance serves as an operatic work of art.